Paladin Bearnaud was one of the Wardens of the Arbiter. He was born into poverty in Otticia, his family toiling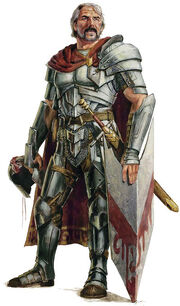 away at the bottom of the hierarchy. His father decided that the best hope for a bright future lay in Bearnaud joining the Wardens, so he paid to have his son sent to the Holy City for training.
Along the way, the man that had been hired to accompany Bearnaud decided that since he already had the money that was to be his payment, he did not need to see Bearnaud transported all the way, and abandoned him in the wastes.
Bearnaud had a better chance of survival if he was to turn back into the green hills of Otticia, but knew he could not disappoint his father. He continued on alone, and made it to the Sanctum half-dead. He was taken in and excelled in his training, ascending to the rank of Paladin very quickly.
During one of his missions, it is said that he lost his temper and killed an innocent, preventing him from ever being promoted to Custodian. It is also said that after he completed his training, he returned to Otticia briefly to give his family gold to make a better life.
He was kidnapped by Librarians with the mark of the Burned Page during the Kutanda crisis, but was rescued by Attendant Idun while Attendant Danton Redwind raided the southern safehouse.
Community content is available under
CC-BY-SA
unless otherwise noted.